This post may contain affiliate links. This means if you click on the link and purchase the item, I will receive a small commission at no extra cost to you. Thank you!
The Apologetics Study Bible is unique in that it tackles the Bible from a more intellecual perspective.
Way too often we as Christians do not have strong, reasonable, convincing, knowledgeable, or evidence-based answers for the questions made by our skeptic friends and family.
I've been in plenty of situations where my beliefs were questioned. And while I stumbled over trying to provide a reasonable answer, I could see the questioner losing faith and interest.
Or worse, a friend or family member mocks, makes a joke, or undermines my beliefs, brushing them off as not worthy of discussion.
Doesn't that just make you angry? It infuriates me. But what can you do when you're ill-equipped to tackle the tough questions?
What's Inside The Apologetics Study Bible
That's what I absolutely love about this Bible. It combines God's Word with intellectual commentary!
Every book in the Apologetics Study Bible has commentary attached to it that dives a little deeper into the text from a cultural, historical, and philosophical context.
This post may contain affiliate links. This means if you click on the link and purchase the item, I will receive a small commission at no extra cost to you.
The book has over 125 articles addressing and expanding on several different topics, including those of a controversial nature.
The articles are written by well-educated scholars, Theologians, apologists, and academics who have been Biblically trained in some capacity and are qualified to write on the topics they discuss.
Exciting stuff!
Check out Christianbooks.com for discounted Christian books and merchandise! Click the banner below.

A neat feature inside the Apologetics Study Bible are sections titled "Twisted Scripture". The book defines these as sections as "explanations that treat those instances where portions of the Bible have been misused by various religious movements such as Jehovah's witness and Mormons."
I love that they tackle the issue of misinterpreted scripture. It wouldn't be difficult to take a verse out of context and make it mean something it doesn't. But the Apologetics Study Bible explores the misunderstood scriptures and offers the true and scholarly accepted meaning behind the verses.
These twisted scriptures sections also help to answer the tough questions about Christianity.
Additionally, scattered throughout the book are profiles of well-known apologists in history, which I think is pretty cool. I'm always in search of a new apologist to study.
There are other features included, along with the standard maps, footnotes, and the like.
I've really enjoyed this Bible, which I've had for about two years now. You can tell a lot of careful work and research went into preparing the content.
Excerpt from the book:
"The editors of the work in your hands are aware of the rich resources of the Christian faith. All too often, though, believers feel battered and helpless to answer skeptics and critics. Ironically, the Lord has been pleased to entrust the scholars of the church in our generation with the greatest wealth of biblical, theological, philosophical, historical, and scientific knowledge in history. Christian conviction, defense of the faith, and evangelization of unbelievers would profit vastly through exposure to this confirmation of biblical truth. Yet, sadly, the church has had precious little contact with this treasure trove.
In response to this situation, "The Apologetics Study Bible" brings together in one resource the work of biblically faithful exegetes, historians, archaeologists, theologians, philosophers, and scientists…"
In Conclusion
So, if you're looking for a new Bible, and trying to dive deeper into apologetics, this is a great purchase. You can buy the book here or click one of the images below. This is the copy I have.
However, there appears to be a newer published version of the Apologetics Study Bible. See the image below. It looks like it has all the same features, but a different cover. Click the title below to purchase this version.
CSB Apologetics Study Bible, Hardcover – Slightly Imperfect
By Holman Bible Publishers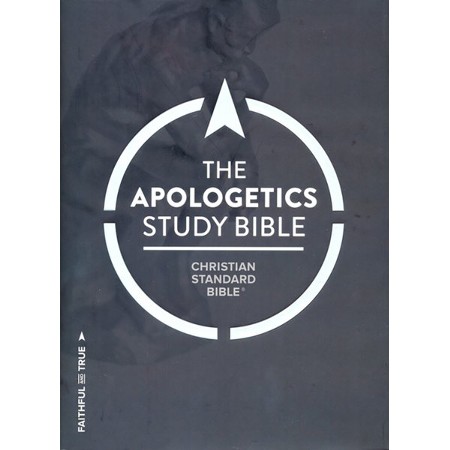 If you use the Apologetics Study Bible, what features do you like best?
Please follow and like us: