This post may contain affiliate links. This means if you click on the link and purchase the item, I will receive a small commission at no extra cost to you. Thank you!
If you talk to any Christian, they will tell you that prayer and fasting are important aspects of the Christian life. The Bible is jam-packed with scriptures on both praying and fasting. Let's look at a few to begin.
"Paul and Barnabas appointed elders for them in each church and, with prayer and fasting, committed them to the Lord, in whom they had put their trust." ~ Acts 14:23
"…and then was a widow until she was eighty-four. She never left the temple but worshiped night and day, fasting and praying. ~ Luke 2:37
"So after they had fasted and prayed, they placed their hands on them and sent them off." ~ Acts 13:3
"Then I proclaimed a fast there at the river of Ahava, that we might humble ourselves before our God, to seek from Him the right way for us and our little ones and all our possessions" ~Ezra 8:21
"However, this kind does not go out except by prayer and fasting." ~ Mathew 17:21
As you can clearly see, according to God's Word, it is highly important that we both pray and fast. And if you study your Bible, you will learn that prayer + fasting is a powerful weapon that God has left to us down on this earth to use against the enemy.
However, is it optional? Do we really have to pray and fast? Isn't fasting something you only need to do sometimes? Isn't fasting only meant for certain special people or to be used in times of great trouble?
In his book "The Hidden Power of Prayer and Fasting", Mahesh Chavda unpacks the mystery of combined prayer and fasting. He dives deep into scripture to reveal to us just how vital it is to the Christian walk that we both pray and fast as a combined effort.
This post may contain affiliate links. This means if you click on the link and purchase the item, I will receive a small commission at no cost to you.
But What Exactly is Fasting?
"Fasting is the kale of the spiritual disciplines. We know it's good for us, but we don't seek it out on the menu." (The Gospel Coalition).
I love this quote from The Gospel Coalition. It's funny, but true. No one wants to fast. It's hard work and it doesn't feel great physically. However, the benefits definitely outweigh the temporary pains.
Chavda's book has an entire chapter devoted to clearing up misunderstandings about fasting. He answers several Frequently Asked Questions about fasting, dives into the various types of fasts there are, what to expect when fasting, what to avoid, and what to fast for.
The chapter, titled "Prayer Pioneers and the Facts of Fasting" is really a very practical guide for those who are ready to start their fasting journeys.
In a nutshell, spiritual fasting is essentially denying yourself food or drink for a set period of time for a spiritual purpose.
"Fasting moves you from the natural realm into the supernatural realm, and that is the only place you can get supernatural revelation, authorization, and power from the Holy Spirit." (Chavda, 156)
But Do I Really Have to Do the Fasting Part?
Somewhere along the way, fasting has become optional.
Fasting has become this thing that is only meant for the most devout, overzealous, super-religious Christians. And most everyone else either never bothers to fast, only fasts during great times of need, or if their church holds a yearly fast.
Chavda writes: Jesus expects you to fast and to pray. In Mathew 6:5-7, He didn't say "When you feel like praying…" No, He said three times, "When you pray…". Not if. In the same way, Jesus didn't say, "If you should someday decide to try to fast, although I know it's almost impossible for you…" in Mathew 6:16-17. No, He said 'When you fast…". He didn't give us the option not to fast" (26)
As Chavda points out, per scripture, prayer and fasting are not optional! He uses scripture to illustrate that fasting is not merely a suggestion or something done when things are going horrible in your life.
"If you are a Christian, then you pray. If you are Christian, then you fast." (26)
Download your free 12-Month Fasting Scheduler. Click the image below to subscribe and receive your's free today!
The Power of Fasting and Praying
If you read Chavda's book, you will learn how prayer and fasting releases anointing and the power of God. The mystery of healing and even expelling demonic strongholds is in prayer and fasting.
Chavda shares several personal experiences where he has encountered demonic spirits and was able to harness the power of God to expel those demonic strongholds on the person the spirit was attached. Over the years, He has also been able to release healing into many people's lives while under the power and anointing of God because of prayer and fasting.
He has done a lot of missionary work, converting thousands to accept Jesus as their Lord and Savior. And he credits prayer and fasting and spending true time in the presence of God. He writes:
"Being filled with the Spirit does not make you ready to move into the fullness of your calling in power. We need to submit to the discipline of the Holy Spirit, and during that time frame God will disciple us in the crucial works of prayer, fasting, and the skillful use of His Word as a weapon." (22)
I love that Chavda uses the word "submit". We must submit and surrender to our Father, stripping ourselves, and allowing the Holy Spirit to fill us.
More Great Quotes from Chavda's Book
"I want you to see that fasting helps release the power of the Spirit in our lives." (22)
"Demons cannot stay around too long when a person fasts, because fasting unto God creates a totally different atmosphere that welcomes the holy and repels the unholy. That is why demonic spirits get very uncomfortable around a person who fasts." (33)
"We are still expected to be in the gospel-preaching, demon-defeating, disease-healing, prisoner-freeing, oppressed-releasing — and yes, dead-raising – business of Mark 16:24-18!" (57)
"It is through prayer that souls are "birthed" into the Kingdom of God." (144)
"We must ask the Lord of the harvest to impart to us the spirit of evangelism and to bring upon us unusual signs and wonders to confirm our faithful preaching of His Word." (144)
What You Will Get from this Book?
Chavda does an excellent job outlining what fasting is, why we need to fast, and what we gain from doing it. The book is filled with scripture that supports his message. And he shares tons of personal experiences and encounters that he has had with healing people and casting out demonic spirits all through the power of prayer and fasting.
Here is just a brief list of what you will get out of reading this book…and this list only scratches the surface.
Jaw-dropping stories from Chavda's own experiences describing his spiritual breakthroughs because of prayer and fasting.
A powerful Bible supported message to Christians about the hidden power of prayer and fasting, and how we can also harness this power.
A list of 12+ specific benefits we can receive from prayer and fasting, all scripture supported.
A list of 9 Biblical reasons why we fast, which can help us understand why we need to be fasting today.
Encouraging and empowering words from a man of God who was led by the Spirit to conduct twenty-nine 40-day fasts over several years! Can you imagine doing just ONE 40-day fast?!
Guidance and practical instruction on how to conduct your fast, using Jesus as your model.
Motivation to get you started on your fasting journey and inspiration to keep you fasting long-term.
And there is so much more you will gain from reading this book.
Visible Power of God is Needed
We are in a time where the visible power of God is needed. People are hungry for Truth, but they are finding "their" truth in all the wrong places. And people are not just hungry for Truth, they are hurting for Truth.
Our world is in dire need of truth that changes lives, not just pretty words and weak prayers that sound good and mean well. Prayer and fasting has the ability to release real, actual, visible power from God, in the name of Jesus.
And we as Christians have access to this all powerful God who wants us to release this power and revival into today's world.
Chavda writes: "Now I understand that God has given me a mandate to help restore this truth about fasting to His end-time Church. Fasting is an extremely important aspect of the New Testament lifestyle of the end-time Church. God asked me to conduct 29 40-day fasts because of the fundamental truth that you cannot impart something that you do not have" ~ (12)
I strongly encourage you to read this book. If you don't want to buy it, see if your local library has it. It just might propel your spiritual growth by miles.
If you're ready to unleash the power of prayer and fasting in your life, purchase your copy via the link below. Not only will you be purchasing a great book, you'll be supporting a faith-based business, Christianbooks.com!
The Hidden Power of Prayer & Fasting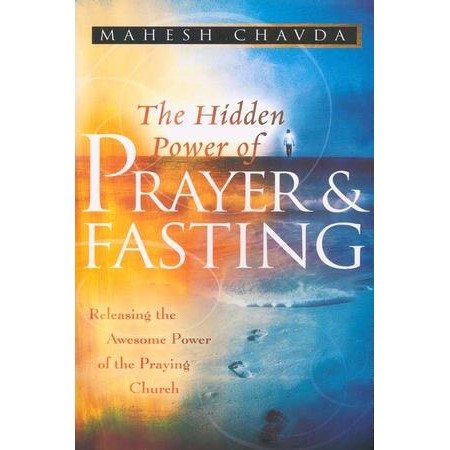 ---
You might also like:
Mere Christianity: Book Review
Spending time with God: FREE "In His Presence" Daily Checklist + Journal Prompts
Be Honest, Are You a Lukewarm Christian?
Please follow and like us: