Maybe you're like me and you've been wondering how to help your child grow spiritually. I'm probably jumping the gun a little bit on this, seeing as my son is only two. But, I'm all about getting a head start.
I recently went on the hunt for Christian Apologetics books for kids and was pleasantly surprised that there are more options than I expected! In this post, I want to share a few of the books I found that seemed like good options. 
Even though my son is only two at the moment, as we all know kids grow up quickly. And it's important that we start preparing for that day when their simple questions turn into deeper Theological questions.
If you don't know what Christian Apologetics is, you can read my post "What is Apologetics". But in a nutshell, Apologetics is all about learning to defend the Christian faith with evidence and reason. Apologetics demonstrates how Christianity is not just some feel-good worldview. But it's a worldview that is backed by actual, reasonable evidence. 
Studying Apologetics as a Christian can really help ground our faith in something that is not dependent upon how we feel. But real solid, scholarly supported evidence that in turn can help us share the gospel a little easier. In my post, "4 Ways Apologetics Can Help You and Your Family Grow Spiritually", I go more in detail on just how studying Apologetics can help strengthen your entire family spiritually.
When I was younger, I was not introduced to anything close to Apologetics. Like a lot of believers I know, I was simply handed the Bible, went to church, and told God was real. And as I got older, this didn't change. So when questions starting coming up from either myself or others around me, I had no idea how to answer. And we do not want that to be the experience of our children in today's world. They will get chewed up by the progressive Christian, and destroyed by the "woke" young culture that is developing.
So that is what sparked my interest in procuring this list. I even found a couple of options for the preschool age group, which is pretty awesome.
Let's take a look!
---
This post may contain affiliate links. This means if you click on the link and purchase the item, I will receive a small commission at no cost to you. Thank you!
---
How to Help Your Child Grow Spiritually
As Christian moms, one of our goals is to help our children grow in their faith. There are a ton of different things we can do. And reading good, solid Christian books to them is one way. Teaching kids to defend Christianity at a young age could be a game-changer in our culture.
Take a look below at the 8 different books I found that could be great additions to a child's collection or even make great Christian gifts for children in your life.
"Thomas loves to think about silly questions. (Are bats really mice with wings?) But other questions are humdingers . . . like when Thomas wonders, Why God? Why do we believe in Him? That's when he and his sister, Hope, must go in search of a humdinger of an answer. Come along as they discover the clues God has given us to help us know how real and wonderful He truly is.  
Written by Dan DeWitt, an apologetics professor with a love for stories, Why God? takes apologetics and makes it accessible for children, not only answering their questions but also opening their hearts to the wonders of God." 
2. Picture Book Apologetics with James and Ruth Book Series (3 Book Series)
"While James and Ruth are playing outside, they meet a grumpy wild pig that challenges their understanding of the universe and God's creative work. Join them as they learn to think carefully about what they believe and why they believe it as their father teaches them how to defend what they know to be true. This colorful story will encourage deep conversations, help you equip your children with faith-strengthening tools, and embolden them to defend their Christian beliefs from an early age."
3. Fact or Fantasy (Children's Bible Study) (Ages 4-9)
"Apologetics for kids! Learn why you believe what you do, and what evidence there is to back it up."
4. Cold-Case Christianity for Kids: Investigate Jesus with a Real Detective (Ages 8-12)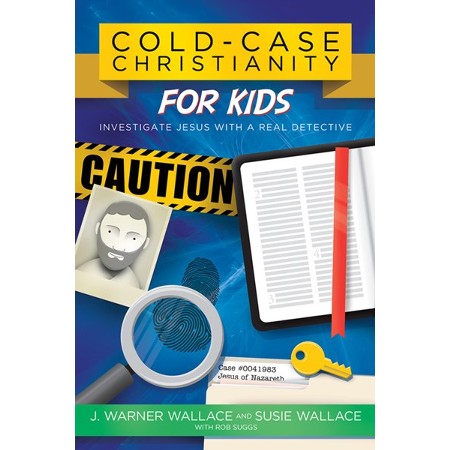 "Drawing tweens into the thrill of high-stakes investigating, respected cold-case detective Wallace trains them how to think rather than telling them what to think. Showing kids how to test witnesses, examine the evidence, and more, he gives them the investigative skills they need to understand and defend the truth about Jesus." 
5. The Awesome Book of Bible Answers for Kids! (Ages 8-12)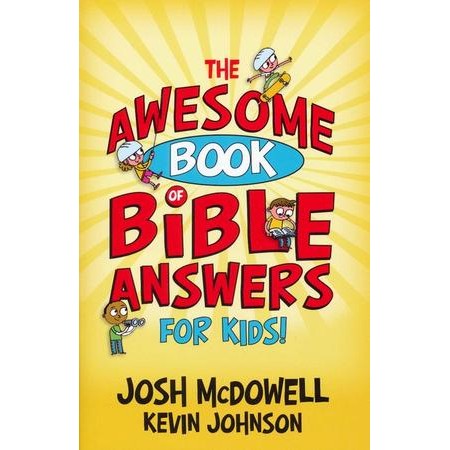 "Keep this practical guide handy for the next time your preteens ask "Who's God?" Filled with key Scriptures and topical explorations of forgiveness, right and wrong, making choices, different beliefs and religions, the Trinity, church, prayer, and more, it's a great way to build a foundation of truth in 8- to 12-year-old hearts. 192 pages, softcover from Harvest."
6. If I Could Ask God Anything: Awesome Bible Answers for Curious Kids (Ages 6 – 10)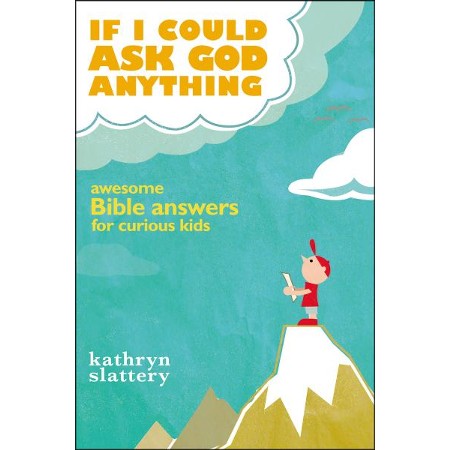 "Does God ever sleep? Did Jesus live before or after the dinosaurs? Kids ask the darndest things about God—and Slattery tackles some of the "toughies"! Using simple language and bright illustrations, she offers fresh answers to questions about faith, prayer, Christianity, and more to help children articulate what they believe and why. Ages 6 to 10. 224 pages, softcover from Nelson."
7. Young Defenders (4 part book series) (Ages 6 – 11)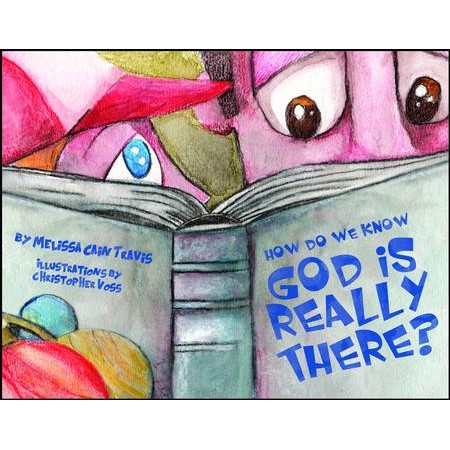 "Almost every night Thomas and his father watch the night sky. One night, Thomas has a question: "Dad, how do we know God is out there?" Together, Thomas and his father begin to examine the cosmological evidence for God's existence as seen through the expansion of the universe. This fun picture book is designed to introduce kids to an important question of the Christian faith in terms even pre-readers can understand. NIV Scripture. 9.25″ x 7.25″. Hardcover."
8. The Case for Christ for Kids (8 – 12)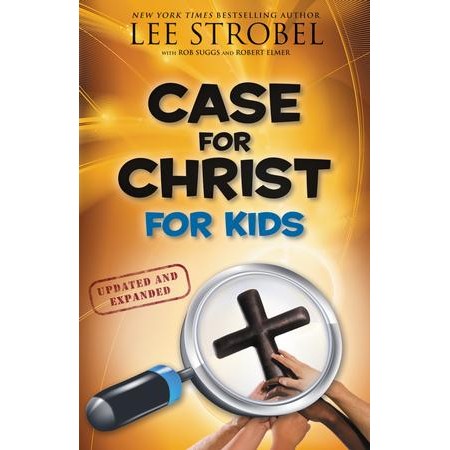 "Equip your 8- to 12-year-olds to defend their faith in an unbelieving world! This revised kid-friendly edition of Strobel's bestseller presents historic evidence, up-to-date scientific research, and true stories taken from Off My Case that provide compelling support for Jesus' life, ministry, and miracles. Reliable answers for inquiring young minds and hearts! 128 pages, softcover from Zonderva."
I hope this list of books will help get you started with teaching Apologetics to your kids!
Apologetics Programs for Kids
In addition to the books listed above, I found a couple of really neat Apologetics programs for kids. If you're looking for a unique way to help your child grow spiritually and teach them Apologetics, one of these programs could be it.
Foundation has two different course options: 1) Comparative Worldview for ages 8 – 12, and 2) Careful Thinking for ages 10 – 14. So if you're a mom of kids these ages, this might be a good place for your kids to get some Apologetics training. The pricing is affordable, in my opinion, at $175 for each curriculum. Details below.
The Comparative Worldview Curriculum Summary:
"Foundation Comparative Worldview Curriculum equips 8-to-12-year-olds with a biblical worldview and exposes them to the basic beliefs of competing worldviews. This Curriculum sets the stage for critical worldview analysis and biblical worldview integration in every area of life. As children begin to learn the basic tenets of competing worldviews, they quickly will begin to recognize these philosophies in novels, textbooks, television shows, movies, music, and daily conversations."
The Careful Thinking Curriculum Summary:
Foundation Careful Thinking Curriculum equips 10-14-year-olds with the basic skills they need to evaluate the truthfulness of ideas. This Curriculum sets the stage for critical thinking in every area of life. As children begin to learn the basic skills in careful thinking, they quickly begin to recognize faulty ideas in the world around them.
The Kids 4 Truth Clubs teaches "Systematic theology for kids that teaches Bible doctrine. Apologetics for kids!"
"Kids4Truth Clubs helps to fulfill this mission by equipping local churches, families, or ministry-minded individuals to reach kids worldwide through creatively and memorably taught doctrinal truth."
And one of their goals is to "Define and refine the minimum standard of Christian knowledge that boys and girls ought to have in order to avoid confusion, discourage hypocrisy, and promote authentic faith."
This program sounds amazing. It seems to be specifically designed for churches versus homeschooling or individual learning. But if you're open to finding a local club or starting one at your church for your kids, this could be a great program.
Well, that's the last of it. I hope this list of resources will help you on your journey to help your child grow spiritually. Let's make a real effort to teach our kids sound doctrine, strong faith, and evidential Christianity.
---
You might also like:
6 Tips to Make Studying Apologetics Less Intimidating
Apologetics Gift Ideas for the Holidays
"Mama Bear Apologetics" Is a Must-Read for Christian Mothers
Please follow and like us: